High Quality Hotel Hangers at Wholesale Prices!
At Hotel Supplies Online if there is one thing we understand it's that success is in the details. We are accustomed to dealing with details in our line of work – of making sure that every nook and cranny of a guest room is attended to appropriately. We carry the hotel supply products that help hotels, motels, bed and breakfasts, inns, and a variety of other facilities and organizations attend to the details of their operation – and do so with quality and affordability in mind.

Our line of hotel hangers is a part of the hotel supplies that we offer here at Hotel Supplies Online. We offer our customers wholesale prices on a variety of hotel hanger styles and colors so that they can choose the perfect complement for their particular guest room.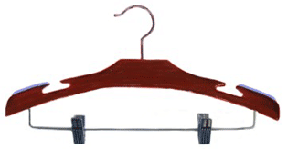 The History of Hangers….
One of the great inventors of our nation – as well as our country's third president – Thomas Jefferson, is widely credited with inventing the first wooden clothes hanger. Clothes, up until that point, had been hung on hooks or simply laid flat as a means of storing them. But hangers did not appear as a part of our everyday use until the mid-19th century where they began to appear in the styles and designs with which we are familiar with today.
The creation of our most commonly used hangers – wire hangers – was inspired by a clothes hook and undertaken in 1903 by Albert Parkhouse, an employee of the Timberlake Wire and Novelty Company in Michigan. Parkhouse, having grown tired of the lack of coat pegs available in the factory for workers – and equally tired of the complaints surrounding the situation - bent a piece of wire into two ovals and twisted the ends together to form a hook, creating the first wire hanger.
In 1932, Schuyler Hulett improved on the design by screwing cardboard tubes onto the upper and lower parts of the wire to prevent wrinkles. In 1935, Elmer Rogers added a tube on the lower bar, which is still used today.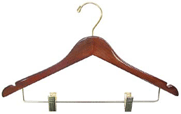 Hotel Supplies Online provides an extensive selection of hotel hangers as a part of our hotel supplies.
Our line includes hotel hangers in a variety of materials including satin padded hangers, wooden hangers, metal hangers, plastic tubular hangers, even children's hangers and Go Green bamboo hangers. These are hospitality grade heavy duty clothes and coat hangers that feature regular as well as anti-theft hooks. No matter what the style you need we have the right hanger for you at the right price.
Our hotel hangers are a part of the high quality hotel supply products that we offer here at Hotel Supplies Online. Success is in the details and we have all of your details covered here at Hotel Supplies Online. We offer affordable prices, easy and convenient shopping, and friendly service. We are always here to answer any of your questions and help you make the ordering process as simple as possible. Thank you for visiting us here at Hotel Supplies Online – we are your complete resource for hotel supply products and we're ready to serve you.